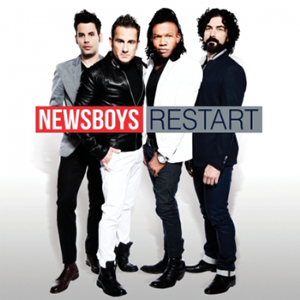 Newsboys has released "Restart" through Capitol Music and all songs are now loaded into WorshipTeam.com. "Restart" is a recording of some great new songs.
Nashville, Tenn. (July 30, 2013) – Four-time GRAMMY®-nominated band Newsboys plans to "take the music further" than ever before with their new album, Restart, set to hit stores on September 10. Boasting a discography of 16 records and over eight million albums sold, Restart will be the third studio album with Michael Tait at the helm and combines the pop, worship and rock that fans embraced from the first two albums, Born Again and God's Not Dead. In the nearly four years since Tait joined the band, over 650,000 records have been sold, while five singles have attained No. 1 status on the radio charts.
Musically, the Newsboys are driven to recast themselves with the pop-spirited new album and have already proven to be successful as their first single "Live With Abandon" reached No. 20 on the National Christian Audience chart this week. The single has also broken into the Top 10 at Christian Hot AC at No. 6.
"At the start of this record two years ago, we knew we'd be taking great risks, but people will be excited about this album because we've pushed the music and taken it further than we've ever taken it before," says front man Michael Tait. "I have not felt this way about anything I've been involved in musically since Jesus Freak."
All songs are loaded and ready to use- just access your WorshipTeam.com system database.
The songs are full featured with complete lyrics, chord charts and full length audio. Check out these great new songs, hear them in the original key, or choose your own key and play it the way you like it.
blessings
Cody Gentes
p.s. if you have never tried out Worshipteam.com, try it FREE for one month by simply going here: http://www.worshipteam.com/try ! See you there.