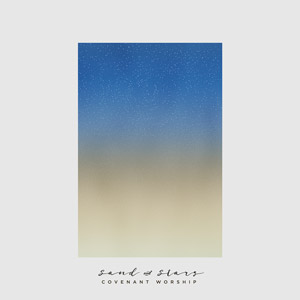 Covenant Worship has released "Sand & Stars" through Integrity Music and all songs are now loaded into WorshipTeam.com "Sand & Stars" is a live recording of some great new songs.
Integrity Music announces the April 14 global release of Sand & Stars, a new full-length live album from Covenant Worship, the music ministry of the Dallas-area-based Covenant Church. Unconventionally recorded under the stars at a church retreat, Sand & Stars reveals a more organic, reflective sound with new songs drawn from scripture. This includes the album's title track, inspired by Genesis 15:5, 17:3-8 and the scriptural covenant God made to Abraham in Genesis 22:17… blessing I will bless you, and multiplying I will multiply your descendants as the stars of the heaven and as the sand which is on the seashore (NKJV).
"All of these scriptures speak of legacy, the promise of future generations," declares worship pastor David Binion, who leads the Covenant Worship team along with his wife, Nicole Binion, and Josh Dufrene. "In Deuteronomy, legacy is referred to as the Seed of Abraham. The New Testament connects us to that promise, referring to all people grafted into the family of Israel… legacy has always been close to the Father's heart.
"Last October, Covenant Church celebrated 40-years of ministry and in that celebration, set into action a transition of family legacy," continues Binion. "Our Pastor, Mike Hayes, very beautifully handed the ministry to his son, Stephen Hayes. During the celebration, Pastor Stephen and his sister, Amie Dockery, shared a profound message about their personal legacy as leaders of Covenant Church, and the name of their message was 'sand and stars.'" All songs are loaded and ready to use- just access your WorshipTeam.com system database.
The songs are full featured with complete lyrics, chord charts and full length audio. Check out these great new songs, hear them in the original key, or choose your own key and play it the way you like it.
blessings
Cody Gentes
p.s. if you have never tried out Worshipteam.com, try it FREE for one month by simply going here: http://www.worshipteam.com/try ! See you there.