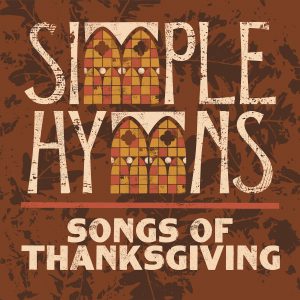 Simple Hymns has released "Songs Of Thanksgiving" through Venture 3 Media and all songs are now loaded into WorshipTeam.com "Songs Of Thanksgiving" is a recording of some great new songs.
Each new recording in the Simple Hymns series combines classic Hymns with a fresh interpretation, some with additional lyrics, as well as new songs that have been written and recorded in a hymn-like style and focusing on the Majesty and Greatness of God.
"Simple Hymns is a response to those that long for a return to a richer and more lyric focused worship expression, combined with a simplicity of musical instrumentation," shares Venture3Media president and founder Steve Nicolle. "Worship music shifts in style from decade to decade, along with shifts in lyrical themes and focus. What makes the hymns so unique and special is their ability to stand the test of time. When times become more turbulent or uncertain, we tend to hold to things that have endured. Hymns give us that anchor, and remind us that God's love and His nature are unchanging."
Some of the hymns in this third Simple Hymns installment include classic songs written by Fanny Crosby ("Sing All The Earth"), Charles Wesley ("Rejoice, The Lord Is King") and Ludwig van Beethoven ("Joyful") and more, all given modern interpretations by today's songwriters like Brenton Brown, John Hartley and Ian Cron.
The recording also features the new hymn "Come People Of The Risen King" written by Keith & Kristyn Getty and Stuart Townend and recorded by Barrett.
All songs are loaded and ready to use- just access your WorshipTeam.com system database.
The songs are full featured with complete lyrics, chord charts and full length audio. Check out these great new songs, hear them in the original key, or choose your own key and play it the way you like it.
blessings
Cody Gentes
p.s. if you have never tried out Worshipteam.com, try it FREE for one month by simply going here: http://www.worshipteam.com/try ! See you there.