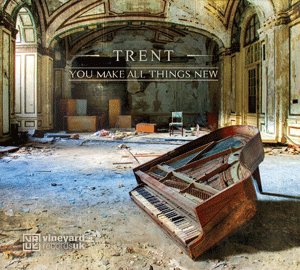 Vineyard Records UK Music has released "You Make All Things New" through Vineyard Records UK Music and all songs are now loaded into WorshipTeam.com "You Make All Things New" is a recording of some great new songs.
You Make All Things New, the new album from Trent is their first album of new material since their live album Burn Bright in 2009.
Over the last few years Trent have focused more on leading worship regularly at their home church in Nottingham but it certainly hasn't been quiet. Behind the scenes Trent continued writing songs together, enjoying leading worship and simply making music.
One or two songs found their way out of the rehearsal studio ('Rise Up', 'My Heart Burns', 'One Desire' and 'Light A Light') but they were waiting for the right time to make another album. In early 2014 a number of songs were brought together that seemed to make sense and the time felt right to get into the studio and create something new. All songs are loaded and ready to use- just access your WorshipTeam.com system database.
The songs are full featured with complete lyrics, chord charts and full length audio. Check out these great new songs, hear them in the original key, or choose your own key and play it the way you like it.
blessings
Cody Gentes
p.s. if you have never tried out Worshipteam.com, try it FREE for one month by simply going here: http://www.worshipteam.com/try ! See you there.