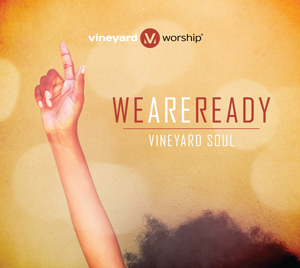 Vineyard Worship has released "We Are Ready (Vineyard Soul)" through Vineyard Worship and all songs are now loaded into WorshipTeam.com "We Are Ready (Vineyard Soul)" is a recording of some great new songs.
Vineyard Soul is a multi-ethnic community of worshippers seeking to broaden the sound and expression of Vineyard Worship. The culmination of these efforts is WE ARE READY, a 13-song album featuring voices of color representing 20 Vineyard churches. Bursting with rhythmic grooves and vocal arrangements, the album captures the heartbeat and sounds of the growing number of multiethnic churches in the Vineyard movement. Featuring R&B tunes ("Who Can Compare," "You Have Set Me Free"), worship anthems ("Yahweh"), and artfully reimagined classics ("One Thing Remains," "More Love More Power," and "Good Good Father"), WE ARE READY embodies the soulful sound emerging from the heart of the Vineyard. The title track, sung by Dee Wilson, is the cry of a culture declaring with open arms that it will enter worship with its full attention and affection on God, singing "We're ready / We are ready / We are waiting here for you." All songs are loaded and ready to use- just access your WorshipTeam.com system database.
The songs are full featured with complete lyrics, chord charts and full length audio. Check out these great new songs, hear them in the original key, or choose your own key and play it the way you like it.
blessings
Cody Gentes
p.s. if you have never tried out Worshipteam.com, try it FREE for one month by simply going here: http://www.worshipteam.com/try ! See you there.