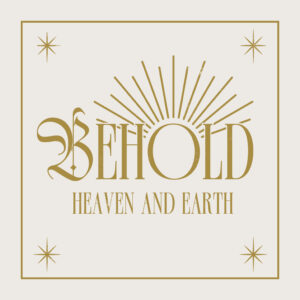 Vineyard Worship has released "Behold" featuring Heaven And Earth and the songs are now loaded into WorshipTeam.com "Behold" is a recording of some great new songs.
Behold is a Christmas EP that celebrates the joy of the Messiah's coming, the promise fulfilled, and the hope of His return.
This season, we invite you to take a longer look at the good news of Jesus, who came in humility to bring salvation to the world. Out of the darkness, a light has come.
Featuring Heaven and Earth, a group of gifted worship leaders and musicians from Vineyard Columbus church, this EP includes a mix of old faithful Christmas songs and new originals,
all designed to help us remember the great hope, love, joy, and peace that this season offers.
As we celebrate the birth of Christ, we also look ahead to His return, joining the story of waiting in anticipation and knowing that one day we will behold Him face to face.
Our hope for this album is that it blesses many as we join together in worship this Christmas.
Embrace the warmth of the Advent season with Behold, a new EP from Heaven and Earth and Vineyard Worship.
The songs are full featured with complete lyrics, chord charts and full length audio. Check out these great new songs, hear them in the original key, or choose your own key and play them the way you like it.
Blessings
WorshipTeam Staff
p.s. if you have never tried out Worshipteam.com, try it FREE for one month by simply going here: http://www.worshipteam.com/try ! See you there.
Also if you want some awesome WT merch find yours here! https://store.worshipteam.com/