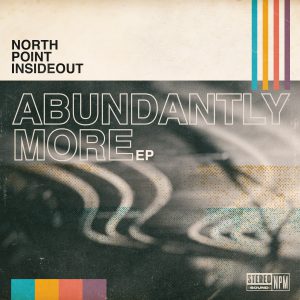 North Point InsideOut has released "Abundantly More" through Centricity Music and the songs are now loaded into WorshipTeam.com "Abundantly More" is a recording of some great new songs.
Wanting to inspire people to follow Jesus, and internationally known for its worship anthem "Death Was Arrested," InsideOut's five new songs on its sixth EP have been organically sown in the local church. Written, recorded and led by the North Point InsideOut team of songwriters and musicians, Abundantly More features the lead single and title track, "Abundantly More [Feat. Seth Condrey]."
"The song is a reminder that in Christ, we have been given everything we need for life and godliness," shares InsideOut member Heath Balltzglier, who co-wrote "Abundantly More" with Seth Condrey, Matt Armstrong and Ethan Hulse. "Scripture says we are more than conquerors and that there is no lack in God. All the joy and the peace that I could ever need comes in seeking Him and His kingdom first."
All songs are loaded and ready to use- just access your WorshipTeam.com system database.
The songs are full featured with complete lyrics, chord charts and full length audio. Check out these great new songs, hear them in the original key, or choose your own key and play it the way you like it.
blessings
Cody Gentes
p.s. if you have never tried out Worshipteam.com, try it FREE for one month by simply going here: http://www.worshipteam.com/try ! See you there.