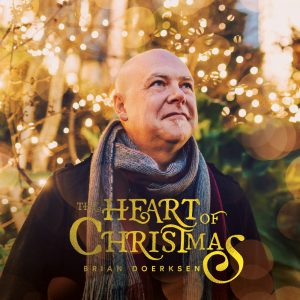 Brian Doerksen has released "The Heart Of Christmas" through Shining Rose Songs and all songs are now loaded into WorshipTeam.com "The Heart Of Christmas" is a recording of some great new songs.
"What is the heart of Christmas? These songs are my reply; not complete nor conclusive but for now, I'm content with my response. In the mess and magic of our ordinary lives God is with all of us. I grew up in a family of faith hearing the Christmas story every year. In the house where I was a child, the same home where Joyce and I also raised our six, we retold the Christmas story every year. Perhaps a little implausible, impossible even, the Christmas story is also incredibly and astonishingly true. Whispers of grace make the mightiest empires give way. Love is real and that love keeps changing hearts and lives. This is why all over the world we keep on singing songs of adoration to the One who came, born in the dust and dirt of humble, human circumstances to show us what God is really like.
The Christmas season is what we in recent centuries have culturally made of this Christmas story. A time of year packed with experiences and expectations that are festive, fun and yet disorienting and difficult for people who are missing loved ones. The yearly traditions that help us remember the Christ and make Christmas meaningful can also make the season hard if the people who helped bring the holidays to life are gone. How do we carry on the celebrations in their absence? We do our best, but with each gathering of friends and family we realize that grief is the price we pay for love. This is part of Christmas too. That's why I wrote and included 'Saddest Season' on this album. I dedicate this recording to all of you who struggle with the season. May this album be like a softly burning candle, an hour's respite from the relentless rush of December." – Peacefully Yours, Brian Doerksen
All songs are loaded and ready to use- just access your WorshipTeam.com system database.
The songs are full featured with complete lyrics, chord charts and full length audio. Check out these great new songs, hear them in the original key, or choose your own key and play it the way you like it.
blessings
Cody Gentes
p.s. if you have never tried out Worshipteam.com, try it FREE for one month by simply going here: http://www.worshipteam.com/try ! See you there.