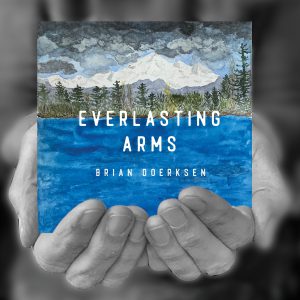 Brian Doerksen has released "Everlasting Arms" through Shining Rose Songs and all songs are now loaded into WorshipTeam.com "Everlasting Arms" is a recording of some great new songs.
"I started 2020 optimistically with 45 concerts and events booked to begin in late April. Last year had gone so well. I had released multiple recording projects; The Heart of Christmas, Faithful One & The SHIYR Poets Volume 3 and so I told myself, "It's going to be quite some time until I'm back in the recording studio." Joyce and I enjoyed our winter holiday late January into February – a circular road trip through Nevada and California. Shortly after returning home we started feeling the presence of the impending pandemic. By early March I knew we were entering a world-changing health crisis that was going to change the way the world worked and how we travel and interact with each other. The virus that infected one person began to ripple outwards within weeks, having a tidal wave like impact as entire industries have been forced to shut down and closures of cultural and social gatherings impact almost every population around the world. I have friends in the village of Podolinec in the Spis region of Slovakia – Bohumir and his family are going through the same thing with the same restrictions as we are in my hometown.
There are many ways to respond to this type of global challenge and the changes that come with it. Those who work in healthcare have responded by giving their best and risking themselves to help keep us as safe as possible. They have earned the raucous celebrations at 7 PM each evening around the world. We're grateful for grocery store workers (like 2 of our daughters!) and the truckers that deliver food and medical supplies. We are thankful for the scientific community's knowledge and skill in developing a vaccine. This whole season boldly underlines how deeply we need each other to do our part. My part is labeled non-essential, yet songs can play a vital part in our emotional and spiritual health and help us hold on to hope in times of trouble. A response started stirring in me.
For some time, I've been singing a new song, a co-write with Cindy Rethmeier called 'In The Middle (Your Peace)'. This song was birthed in 2018 after listening to a 'On Being' podcast on
the story behind songs called 'Spirituals'. These timeless songs were often written in the middle of suffering, injustice and trying circumstances. Filled with raw emotion and honesty, they were vulnerable and simple, yet were always marked with defiant hope. Cindy and I set out to write a 'modern spiritual' in our own musical and lyrical mother tongue drawing inspiration from the spirituals that came before us and from people around us who were suffering, specifically those who were doing whatever they could to suffer well.
Our lyrical aim was to name our struggles truthfully while still affirming the one thing that remains, the gift of God's peace. All life and truth is a paradox, it's both at the same time; struggle and comfort, fear and peace. When we began to write, we did not foresee Covid-19, but the closer it came the more convinced we were to keep singing. We recorded 'In The Middle' plus I decided to rework a few hidden songs that felt right for this season.
These include another co-write with Cindy from 20 years ago called 'Ever So Gently.' A new recording and version of 'When You Shepherd Me' – my setting of the 23rd Psalm that previously was only available on 'Live In Europe' from 15 years ago. An updated mix of 'Your Faithfulness' – the song I wrote in the middle of the birth of our second special needs son Isaiah. And an update of the title song 'Everlasting Arms' from the 2018 album Grateful. In the few years since I wrote this song it has become one of my personal favourites. I often close concerts with it as it's the thing I want people to remember as they journey back into the challenges of their life's circumstances and now, the words feel like they have more weight.
'We don't know when this storm is going to break' or how many people will perish in it and how many businesses will be broken beyond repair and not reopen. We don't know. We don't know when or what the new normal will look and feel like. Yet in the middle of all this uncertainty we can still choose to trust and experience peace that is not dependent on our circumstances.
So here it is, the Everlasting Arms EP. The EP I wasn't expecting to make in the middle of a pandemic we didn't anticipate or want. It comes with much love from my heart and home to yours. May you know peace and the comfort of God's everlasting arms underneath all things."
Love,
Brian Doerksen
Abbotsford, British Columbia, Canada
All songs are loaded and ready to use- just access your WorshipTeam.com system database.
The songs are full featured with complete lyrics, chord charts and full length audio. Check out these great new songs, hear them in the original key, or choose your own key and play it the way you like it.
blessings
Cody Gentes
p.s. if you have never tried out Worshipteam.com, try it FREE for one month by simply going here: http://www.worshipteam.com/try ! See you there.