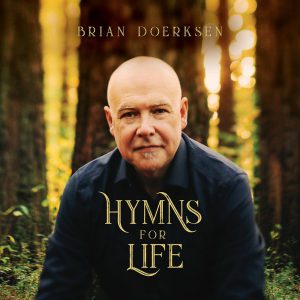 Brian Doerksen has released "Hymns For Life" through Shining Rose Songs and all songs are now loaded into WorshipTeam.com "Hymns For Life" is a recording of some great new songs.
"Of the many vivid childhood memories from our home, hearing my father reviewing the Sunday hymns on Saturday evenings is one of the most special. In my youth I didn't have enough life experience to realize what a formative gift it was to have a father like this. By the time I was 15 and rebellious, I foolishly vowed I was not going to be like my Dad. In my immature pride I thought the hymns my Dad loved represented dead religion. Thankfully when I was 16, I had a profound spiritual encounter and the course of my life changed. When I started recording my own albums in 2002, I made a decision to include a hymn on each project. It took a few years, but I went from loathing hymns to loving them.
In the spring of 2020 when the Covid-19 pandemic was starting to lock us down, our son-in-law Luke directed a video of my father and I singing 'It Is Well.' This was the very first hymn I recorded on 'You Shine' and I had recently updated it for my 2019 album of legacy songs, 'Faithful One'. It didn't take long and more than 100,000 people watched and shared the video on social media. That resonance was one of the sparks for this project. When we go through suffering individually or collectively, hymns are anchors of hope in the storm. They resonate inside every cell of our being, just as I imagine the particles in every stone of majestic cathedrals tremble with the hymns of praise that have been sung in them through the ages.
Faith and music are inseparable for most of us. The songs that best express that bond endure. We call those songs 'hymns' after they have served for several lifetimes, tenderly accompanying us in every season of living and beautifully preparing us to cross the sacred threshold of dying. By taking up the song of previous generations, we affirm that those who have passed away are still with us and we're joining them on their journey of faith. These abiding hymns declare to all generations that none of us are alone.
Deciding which hymns to arrange and record was not easy; there are so many of enduring significance and meaning that have brought comfort to millions. In the end, I chose hymns that were about the themes of the regenerative beauty of creation, the way God is our help and peace in the middle of life's storms, and Jesus' voice of love.
'Hymns For Life' marks a full circle moment for me; 40 years after I was 15, I'm grateful for another chance to recognize I've become like my Dad. I'm dedicating this project to him, Harry Doerksen, and all others like him who have kept these timeless songs alive for us. May they be hymns for your life as well."
In the Father's love,
Brian Doerksen
Abbotsford, British Columbia, Canada
All songs are loaded and ready to use- just access your WorshipTeam.com system database.
The songs are full featured with complete lyrics, chord charts and full length audio. Check out these great new songs, hear them in the original key, or choose your own key and play it the way you like it.
blessings
Cody Gentes
p.s. if you have never tried out Worshipteam.com, try it FREE for one month by simply going here: http://www.worshipteam.com/try ! See you there.