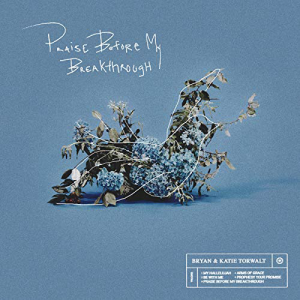 Bryan & Katie Torwalt has released "Praise Before My Breakthrough" through Jesus Culture and all songs are now loaded into WorshipTeam.com "Praise Before My Breakthrough" is a recording of some great new songs.
Bryan and Katie Torwalt's latest release, Praise Before My Breakthrough, is a beautifully vulnerable collection of songs that will minister to hearts in every season of life. Each song carries the hope and love of God, while sharing moments of struggle that we can all relate to. Their lyrics and melodies are filled with an honesty that brings fresh revelation on the steadfastness of God, even in the tension of the unknown.
The Torwalt's raw expression and value for praising Him in every circumstance is evident throughout this project. The title track, "Praise Before My Breakthrough," is a powerful declaration of the unfailing truth that God is good, even before breakthrough comes. By reminding us that lies and fear will crumble in the weight of His presence, Bryan and Katie bring us into their personal walks with God through songs like "Prophecy Your Promise" and "Be With Me."
This is a unique collection of prayers turned to songs that were birthed in the middle of a trying season. Without waiting for God to reveal all of the answers, Bryan and Katie invite us into the middle of journey. Praise Before My Breakthrough is an invitation to be vulnerable in the midst of the storm all while pouring your love out in worship for Him.
All songs are loaded and ready to use- just access your WorshipTeam.com system database.
The songs are full featured with complete lyrics, chord charts and full length audio. Check out these great new songs, hear them in the original key, or choose your own key and play it the way you like it.
blessings
Cody Gentes
p.s. if you have never tried out Worshipteam.com, try it FREE for one month by simply going here: http://www.worshipteam.com/try ! See you there.