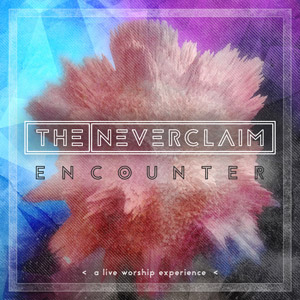 The Neverclaim has released "Encounter" through Radiate Records and all songs are now loaded into WorshipTeam.com "Encounter" is a live recording of some great new songs.
Acclaimed pop/rock/worship band The Neverclaim releases its first full-length live worship album, Encounter: A Live Worship Experience, Sept. 30 from Radiate Music. Recorded live at the Franklin, TN-based Vineyard Church just outside of Nashville, the album was produced by the band's Jeremiah Carlson (lead vocals), Mitchell Maldonado (guitar/keys), Chuck Hill (bass) and Beji George (drums), and expresses the band's story of being broken people who are now a testimony to the extravagant love, grace and goodness of God.
Encounter finds The Neverclaim reconnecting with their roots as a worship band and during a season where they are heavily investing into the local church. Carlson is the Young Adult Pastor at Vineyard Boise where Maldonado is Director of Media Production, George is at a Houston Vineyard church, and Hill is part of a Vineyard church plant in Bloomington, IL.
"Every story of hope in a desperate situation starts with an encounter with Jesus," shares Carlson, underscoring the passion for this project. "He alone holds the power to break off chains of fear, shame, anxiety and depression. He alone can redefine who we truly were made to be. He can take all the brokenness from our past and turn it into something beautiful."
Framing the overarching theme of the album, the anthemic title track gives worshippers language to call on God to intervene. "Through a simple encounter with Jesus, everything changes," says Carlson. "No matter what kind of life people have lived when they encounter Jesus, they are wrecked for anything else but Him."
The song "Testimony" on the album is the natural progression of an encounter with God, and is a collective shout of praise for Christ's redeeming work, while "Through Christ," first featured on The Neverclaim's 2015 album, The Joy, comes from a very personal experience in Carlson's story. Born out of an extramarital affair and sexually abused as a child, Carlson says he experienced anxiety, self-hatred and was suicidal. All songs are loaded and ready to use- just access your WorshipTeam.com system database.
The songs are full featured with complete lyrics, chord charts and full length audio. Check out these great new songs, hear them in the original key, or choose your own key and play it the way you like it.
blessings
Cody Gentes
p.s. if you have never tried out Worshipteam.com, try it FREE for one month by simply going here: http://www.worshipteam.com/try ! See you there.