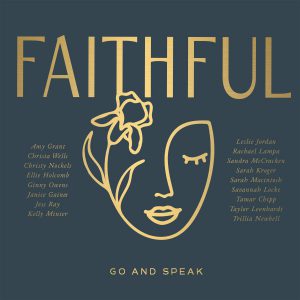 Faithful has released "Go and Speak" through Integrity Music and the songs are now loaded into WorshipTeam.com "Go and Speak" is a recording of some great new songs.
Coming to life in the winter before the pandemic, a group of well-known and respected authors and songwriters gathered as a community to write and share songs. Their work came to be known as FAITHFUL: songs and stories of God's kindness to women throughout history and here with us today. New album FAITHFUL: Go And Speak shares songs from many of today's renowned artists, songwriters, and authors; each song on this special thematic album featuring a woman telling the story of God's faithfulness throughout Scripture to the present day. This collaboration between artists and authors has led to a collection of poetry and resonance through song. Artists involved on the album are Amy Grant, Ellie Holcomb, Ann Voskamp, Sarah Macintosh, Sandra McCracken, Ginny Owens, Leslie Jordan, Christy Nockels, Rachael Lampa, Kelly Minter, Savannah Locke, Sarah Kroger, Christa Wells, Tamar Chipp, Jess Ray, Janice Gaines, Trilla Newbell, and Taylor Leonhardt.
The FAITHFUL book is an eclectic collection of written stories, lyrics, photos, and art created and curated by some of today's most distinguished and thoughtful Christian artists and authors. Amanda Bible Williams, Ann Voskamp, Ginny Owens, Kelly Minter, Kelly Needham, Lisa Harper, Raechel Myers, Ruth Chou Simons, Sally Lloyd-Jones, Sarah Macintosh, Savannah Locke, and Trillia Newbell, with an introduction by Amy Grant, gathered to create this keepsake book that celebrates God and the enduring legacy of women in the Bible.
All songs are loaded and ready to use- just access your WorshipTeam.com system database.
The songs are full featured with complete lyrics, chord charts and full length audio. Check out these great new songs, hear them in the original key, or choose your own key and play it the way you like it.
blessings
Cody Gentes
p.s. if you have never tried out Worshipteam.com, try it FREE for one month by simply going here: http://www.worshipteam.com/try ! See you there.