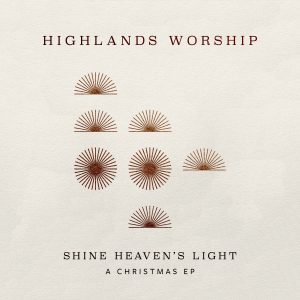 Highlands Worship has released "Shine Heaven's Light: A Christmas EP" through Highlands Creative Publishing and all songs are now loaded into WorshipTeam.com "Shine Heaven's Light: A Christmas EP" is a recording of some great songs.
With a passion to encourage congregational worship, create resources for churches and draw listeners closer to God, Highlands Worship releases Shine Heaven's Light: A Christmas EP
The six-song recording features Highlands Worship's diverse group of talented songwriters and vocalists from the Birmingham, AL-based Church of the Highlands, one of America's largest churches.
The full Shine Heaven's Light production was meticulously recorded live at the church and produced by Highlands Worship's Chris Griffin (who also co-wrote three of the songs) along with mixing by Sam Gibson (Hillsong, Jesus Culture, Chris Tomlin). The recording features both new songs of worship for Christmas and classics re-crafted with ambitious modern interpretations featuring a full string orchestra and a resounding choir of voices.
The inspiring and uniquely percussive "O Come Emmanuel" features three massive sets of drums coming down from the ceiling, being played hanging in midair by three percussionists for the recording and companion video. The song was co-written by Griffin, Nicole McLean, Tyler Wester and Adam Wright and led by vocalists McLean and John Larson, who also leads Highlands Worship's 1,000+ active worship team members and 70+ full or part-time musicians on staff.
Other classics include the soulful, guitar-infused "Joy to the World" led by several Highlands Worship vocalists and the worshipful "Born in Bethlehem" led by GRAMMY Award winning Micah Massey.
Massey also co-wrote and leads the new song "Let There Be Peace" as well as sings "Earth Stood Still" penned by Eric Owyoung (Future of Forestry) while C.J. Blount leads the piano-driven, orchestra-lifted declaration "He Has Come" written by McLean.
All songs are loaded and ready to use- just access your WorshipTeam.com system database.
The songs are full featured with complete lyrics, chord charts and full length audio. Check out these great new songs, hear them in the original key, or choose your own key and play it the way you like it.
blessings
Cody Gentes
p.s. if you have never tried out Worshipteam.com, try it FREE for one month by simply going here: http://www.worshipteam.com/try ! See you there.