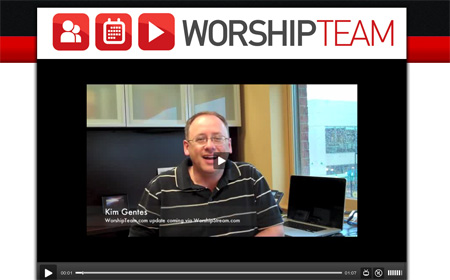 WorshipTeam.com Friends,
Some great news! Coming up on August 31 we will be having an online Web Session (hosted by our friends at WorshipStream.com) that will be all about WorshipTeam.com and some exciting news for our churches and users!
You can join us at online at:
http://video.worshipstream.com/channel/worshipteam
The event will be Tuesday, August 31 at 4:00pm CST (2:00pm Pacific)! It is completely FREE, and is especially for all our WorshipTeam.com users and churches. We will keep the broadcast brief, so it won't take up much of your time. We will cover:
Some tips/tricks with making the most of WorshipTeam.com
Exciting new content we are adding (more songs, more music companies involved)
WorshipTeam.com V2!! Yes, we are hard at work on a very exciting set of comprehensive additions and improvements to Worshipteam.com. You get a sneak Peak!! Come check it out!
Finally, I want to encourage you to please check out our friends at WorshipStream.com , who are doing this webstream for us. If you have a church who is thinking about broadcasting /streaming your church services I'd encourage you to check them out. You can see the small graphic and link at the bottom of this blog post for more information.
Hope to see you online on August 31 at: http://video.worshipstream.com/channel/worshipteam
blessings
Kim Gentes