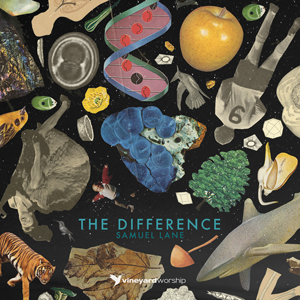 Samuel Lane has released "The Difference" through Vineyard Worship UK & Ireland and all songs are now loaded into WorshipTeam.com "The Difference" is a recording of some great new songs.
Five years on from Samuel's 2013 critically acclaimed debut album The Fire, Lane and Vineyard Worship UK & Ireland release the follow up album, The Difference. The story is one of looking to Jesus. When we fall short, he offers his hand. When we are weak, he is our strength. When we fail, he is the difference. Each song has been crafted with the same intensity and rawness as has become fitting for a Samuel Lane record, and the songs are sure to encourage listeners to deepen their relationship with God and desire more intimacy with him.
All songs are loaded and ready to use- just access your WorshipTeam.com system database.
The songs are full featured with complete lyrics, chord charts and full length audio. Check out these great new songs, hear them in the original key, or choose your own key and play it the way you like it.
blessings
Cody Gentes
p.s. if you have never tried out Worshipteam.com, try it FREE for one month by simply going here: http://www.worshipteam.com/try ! See you there.