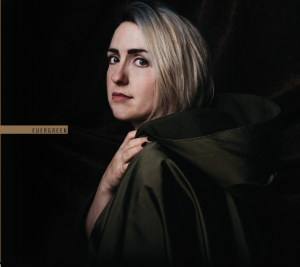 Audrey Assad has released "Evergreen" through Fortunate Fall Records and the songs are now loaded into WorshipTeam.com "Evergreen" is a recording of some great new songs.
Sometimes the most compelling art and spiritually-nourishing songwriting comes after a challenging season, though in the case of consistently thought-provoking troubadour Audrey Assad, it appeared after a gut-wrenching deconstruction of her fundamentalist faith foundation, alongside crippling battles against anxiety. In fact, it was that very maze of emotions, coupled with the inability to write worship songs she felt were genuinely authentic, that resulted in the four years between her last original album and the immensely awaited Evergreen (Fortunate Fall Records/Tone Tree Music), which besides chronicling the no-holds-barred transparency of her struggles, buds with rebirth and hope.
"I wish I could point out a catalytic moment, but my journey out of fundamentalism has been very gradual," explains Assad. "Actually, I have found that fundamentalism was not just a descriptor for my childhood beliefs, but also a deeply ingrained worldview through which I looked at everything in my life. It has taken far longer to soften the effects of that lens than I had imagined it would when I left my Plymouth Brethren church behind at the age of twenty-one. Even in my mid-thirties now, after having been Catholic for ten years, the residue of fundamentalism remains. I live in a slow, constant process now of encountering the vestiges of fundamentalist thinking as they present themselves, assessing them, and putting them to the side if I am done with them."
Continues Assad: "I do remember hitting a wall in late 2014 when I was experiencing some serious burnout, and when I finally took some time to breathe and examine my interior state in early 2015, I found scorched earth. I had always struggled to relate to believers who heard the voice of God at every step, but it had gotten even more desolate, and I truly felt no sense of God's presence at all—in my heart or in the universe. I would say that is when I truly began to actively deconstruct the religion I had grown so comfortable with. It seemed very bleak at the time to me, but looking back, it was a really healthy experience of disillusionment that led to greater detachment—I learned to live with open hands around everything, even my belief."
The songs are now loaded and ready to use- just access your WorshipTeam.com system database.
The songs are full featured with complete lyrics, chord charts and full length audio. Check out these great new songs, hear them in the original key, or choose your own key and play them the way you like it.
blessings
Cody Gentes
p.s. if you have never tried out Worshipteam.com, try it FREE for one month by simply going here: http://www.worshipteam.com/try ! See you there.