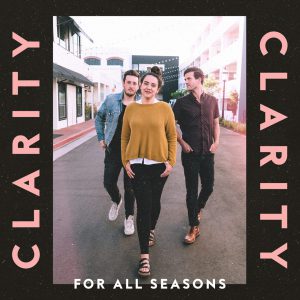 For All Seasons has released "Clarity" through Centricity Music and all songs are now loaded into WorshipTeam.com "Clarity" is a recording of some great new songs.
"On Clarity, the general public is getting a taste of the band's whip-smart pop sensibilities. Their debut has a focus and maturity that should net them instant results…Memorable refrains turn songs of God's grace, love, and presence into welcome reminders for daily listening.
"It's been such a time of growth for us; finding the freedom to be who we are as a band, refining the focus of our ministry, and loving more and more what God has called us to do with our music," band member Jeff Luckey says. "Our hope is simply that people resonate with the stories we share, that they see evidence of God's faithfulness, and wherever they are, whatever they are going through, they find hope in who He is."
For All Seasons band members Emily Hamilton, Johnny Hamilton, and Jeff Luckey have been making music together for almost a decade, from leading worship at Biola University and Hume Lake Christian camps to producing music independently
All songs are loaded and ready to use- just access your WorshipTeam.com system database.
The songs are full featured with complete lyrics, chord charts and full length audio. Check out these great new songs, hear them in the original key, or choose your own key and play it the way you like it.
blessings
Cody Gentes
p.s. if you have never tried out Worshipteam.com, try it FREE for one month by simply going here: http://www.worshipteam.com/try ! See you there.