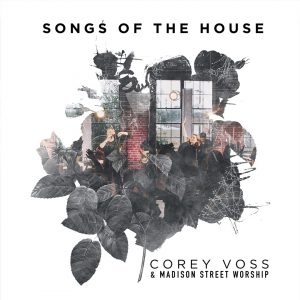 Corey Voss & Madison Street Worship has released "Songs Of The House" through Integrity Music and all songs are now loaded into WorshipTeam.com "Songs Of The House" is a live recording of some great new songs.
Worship pastor Corey Voss, the writer behind "I Got Saved" and "Praise The King" and voice behind the popular "God Who Moves The Mountains," introduces his church creative team, Madison Street Worship, with the appropriately titled Songs Of The House
Songs Of The House delivers just that: new worship songs that reflect the revival happening at Gateway Shelbyville, a multi-generational, multi-cultural Tennessee congregation situated on the small town's main thoroughfare of Madison Street. Combining themes of belonging, family, healing and freedom in Christ, Songs Of The House follows Songs Of Heaven & Earth.
For the 10-track Songs Of The House, listeners will hear not only Voss and team, but the congregation singing along as well with raw energy and joy. Perhaps it is because these are their songs birthed from and for the local church. It is a natural outflow of the songwriting culture developed by Voss and Gateway's pastor, Jason Daughdrill.
In every track, listeners will hear a church reawakened and on fire. Only seven years ago, Gateway Shelbyville was struggling along with less than 60 people when Daughdrill stepped in as pastor. Shortly after, Voss joined the church and soon others began finding their way to what has become a booming community of over 1,000 members in rural, middle Tennessee.
"We feel like a family with God gathering us all together, from all over" says Daughdrill. "It's humbling to see the grace of God carrying us through and raising up a movement of worshipers."
Agreeing, Voss adds: "Humbling and beautiful… to watch Him carrying us through hard seasons, into growth and revival. And all of that has been written into these songs."
"The local church is where songs should start," says Voss. "Doing life together, knowing one another. Our filters are, 'what do our people need to sing?' and 'what is going to lift them up and help them encounter God?'. Our prayer is that others will connect to them as well."
All songs are loaded and ready to use- just access your WorshipTeam.com system database.
The songs are full featured with complete lyrics, chord charts and full length audio. Check out these great new songs, hear them in the original key, or choose your own key and play it the way you like it.
blessings
Cody Gentes
p.s. if you have never tried out Worshipteam.com, try it FREE for one month by simply going here: http://www.worshipteam.com/try ! See you there.