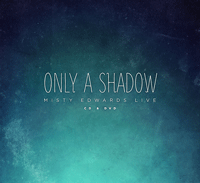 IHOP Kansas City's worship leader Misty Edwards released her new album "Only A Shadow" through Forerunner Music and has all songs loaded into WorshipTeam.com. "Only a Shadow" captures Misty Edwards and team in a raw, fervently energetic, live prophetic worship concert. Recorded amongst a sea of Onething conference goers, the album features primarily new songs with a handful of familiar tracks from Misty's past decade of worship releases.
The album is framed between themes of the love of God and the resulting pledges of unwavering devotion fueled by this love, sustaining endurance and imparting vision for eternity amidst earthly trials. As is typical of Misty's signature style, both soaring and subdued vocals bear the same provoking, soul-stirring potency. Her penchant for cutting through embellishment to reveal the heart of a matter shines through in each track, resonating beautifully in this vast atmosphere of worship. "Only a Shadow" invites the listener to encounter the eternal Source of light from whom the foreshadowings of this age are cast. All songs are loaded and ready to use- just access your WorshipTeam.com system database.
The songs are full featured with complete lyrics, chord charts and full length audio. Check out these great new songs, hear them in the original key, or choose your own key and play it the way you like it.
blessings
Kim Gentes
p.s. if you have never tried out Worshipteam.com, try it FREE for one month by simply going here: http://www.worshipteam.com/try ! See you there.