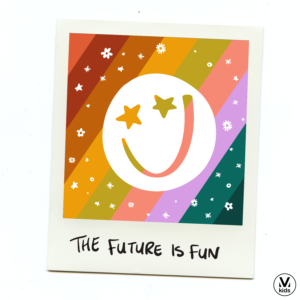 Vineyard Worship has released "The Future Is Fun" featuring Vineyard Kids and the song is now loaded into WorshipTeam.com "The Future Is Fun" is a recording of a great new song.
"THE FUTURE IS FUN , a brand new kids worship song from Vineyard Kids, is an anthem for a new generation! This upbeat, pop single was created just for kids, but watch out.. we bet you you'll be singing along too!
Featuring the powerhouse vocals of newcomer Katy Carnohan and legendary kids worship leader, Yancy, "The Future Is Fun" challenges a whole generation to listen to the sound of Heaven's heartbeat and boldly follow where God leads them.
We are marching to the beat of a different drum
We're breaking out, we're breaking out
Marching to the beat of a different drum
You hold the future and the future is fun
God is our future, the first & the last, the beginning & the end. He is our joy and our hope and this is what gives us the eyes to see our future as fun! God is FUN and He is always working everything together for good in His kingdom.. and we like to call that Wonder Land!"- Vineyard Worship
The song is loaded and ready to use- just access your WorshipTeam.com system database.
The song is full featured with complete lyrics, chord charts and full length audio. Check out this great new song, hear it in the original key, or choose your own key and play it the way you like it.
blessings
WorshipTeam Staff
p.s. if you have never tried out Worshipteam.com, try it FREE for one month by simply going here: http://www.worshipteam.com/try ! See you there.

Also if you want some awesome WT Merch find yours here! https://store.worshipteam.com/