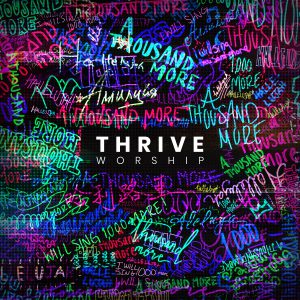 Thrive Worship has released "A Thousand More" through Integrity Music and all songs are now loaded into WorshipTeam.com "A Thousand More" is a recording of some great new songs.
"Every song on this album is telling a piece of a story from our church," shares Corbin Phillips, one of the group's founding leaders, along with Peter Burton and Charmaine Wells. "When you have a lot of people from different backgrounds, you get a lot of different influences in the music from Gospel to pop to congregational. It gives us a lot of space within the boundary lines to create outside of the typical church worship band."
"We want to spread a message of hope," Burton explains. "We want people to feel like they can come and be comfortable, no matter what state of life they're in. Our hope is that these songs would be able to reach someone who's really far from Christ or someone who's been walking with Him for a long time."
Along with their eight-campus weekly services, they also run the Thrive Worship School from their main location. Students from all over the world come to hone their talents and learn to lead in worship, with a goal to take them from talent to impact.
Additionally, their focus on leadership has organically spread into their own community, as many area worship pastors attend their Sunday night services. "Our founding pastor has always been a pastor to pastors," shares Wells. "Because of that, we really love to minister to fellow leaders and build them up. They come here on Sunday nights to fill up their own well so they can go back out to their churches and minister to their people."
The Sunday night service has been such an integral part in developing new songs for the church. In fact with these songs impacting not only the Sunday night service but their entire congregation, many ended up on A Thousand More.
All songs are loaded and ready to use- just access your WorshipTeam.com system database.
The songs are full featured with complete lyrics, chord charts and full length audio. Check out these great new songs, hear them in the original key, or choose your own key and play it the way you like it.
blessings
Cody Gentes
p.s. if you have never tried out Worshipteam.com, try it FREE for one month by simply going here: http://www.worshipteam.com/try ! See you there.