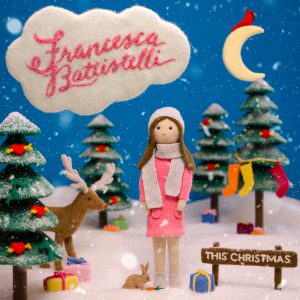 Francesca Battistelli has released "This Christmas" through Curb | Word and all songs are now loaded into WorshipTeam.com "This Christmas" is a recording of some great songs.
This Christmas serves as the much-anticipated sequel to Battistelli's first Christmas album, Christmas.
"I am so thrilled to get to share these songs with all of you! Making this Christmas album has been an absolute labor of love. We started the process a year-and-a-half ago, and I don't think I have ever enjoyed an album process so much. Through all of the uncertainty this year, it has been a true bright spot to write and record these songs," Battistelli shares. "I know that for many people, the Christmas season can be very difficult. My prayer is that these songs offer hope, glorify Jesus, bring joy (and maybe even some laughter!), and truly bless you, now and in the years to come."
Anchored by a track list that emphasizes the spiritual nature of the Christmas season one minute, with new takes on seasonal favorites the next, Battistelli's second Christmas installment boasts an a cappella rendition of "Silent Night," an orchestral, horn-filled iteration of "Let It Snow! Let It Snow! Let It Snow!" This Christmas also features the chart-topping single, "Messiah," as well as four other originals co-written by Battistelli, including "Behold Him,
All songs are loaded and ready to use- just access your WorshipTeam.com system database.
The songs are full featured with complete lyrics, chord charts and full length audio. Check out these great new songs, hear them in the original key, or choose your own key and play it the way you like it.
blessings
Cody Gentes
p.s. if you have never tried out Worshipteam.com, try it FREE for one month by simply going here: http://www.worshipteam.com/try ! See you there.