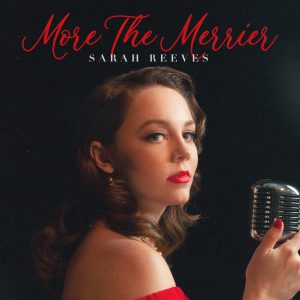 Sarah Reeves has released "More The Merrier" and all songs are now loaded into WorshipTeam.com "More The Merrier" is a recording of some great new songs.
From the nostalgic spark of originals like "Sentimental" and "Snow Globe," Reeves' holiday offering is sure to be the soundtrack for many Christmas parties this year and in years to come. "More The Merrier is quite possibly my favorite project of my career thus far. It is a timeless collection of Christmas songs, both old and new, that I hope you enjoy listening to as much as we enjoyed making it. I tapped into a side of my artistry that I've never known before, yet it felt natural and effortless," Reeves shares of the album produced and arranged by Ben Schofield and Mark Campbell. "The energy in the studio was electric as we brought jazz musicians in to bring these songs to life. I hope you feel the magic, the joy, and a touch of nostalgia and warmth this holiday season as you fill your home with these Christmas carols."
Reeves' fresh holiday collection combines the unmistakable vintage charm of Bing Crosby and Nat King Cole with the warmth and nostalgia of the Vince Guaraldi Trio, allowing the revered songstress to experiment in the studio where she tracked her vocals alongside live horns and lush strings on four originals and four holiday favorites.
All songs are loaded and ready to use- just access your WorshipTeam.com system database.
The songs are full featured with complete lyrics, chord charts and full length audio. Check out these great new songs, hear them in the original key, or choose your own key and play it the way you like it.
blessings
WorshipTeam Staff
p.s. if you have never tried out Worshipteam.com, try it FREE for one month by simply going here: http://www.worshipteam.com/try ! See you there.
Also if you want some awesome WT Merch find yours here! https://store.worshipteam.com/