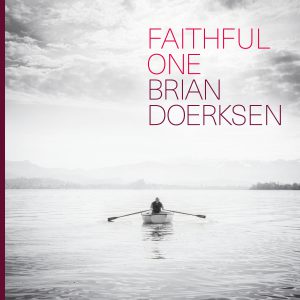 Brian Doerksen has released "Faithful One" through Shining Rose Songs and all songs are now loaded into WorshipTeam.com "Faithful One" is a recording of some great new songs.
The release of Faithful One, the album marks 30 years of songwriting & recording for me. It's been a journey filled with every emotion, from the ecstatic joy of creating and connecting with God to the dark days of disorientation when creative projects collapsed or when tragic news arrived uninvited. It some ways, this project and my public songwriting and recording life began on Sunday Oct 1, 1989. I was the 23-year-old worship pastor of the Vineyard congregation in Langley, B.C. Canada. We had decided to record a live 'evening of worship' featuring original songs written by Andy Park, Craig Musseau and myself backed by our church worship band. As we met to pray a few hours before the event I had a powerful encounter with the Holy Spirit. I collapsed on the floor because of the intensity of what felt like electricity coursing through my body. My initial thought was that God had come with the fire of judgment. After a few minutes, I realized that the fire and power I was experiencing was pure love. I eventually got off the floor and we proceeded singing through our prepared set list. The result was a Langley Vineyard live recorded album released on cassette called 'Changed By Your Glory.' (Anybody out there remember cassettes? How the tape would sometimes unspool and a pencil could wind it back in?) We planned on manufacturing about 500 cassettes for members of our church, but somehow a few copies found their way beyond our local area and the requests started coming in. We realized that we needed to re-release the album as a CD. 'Changed By Your Glory' eventually sold over 70,000 units (with no marketing, record label or social media) and was the primary way that people were introduced to my earliest songs like 'I lift my eyes up', 'Refiner's Fire' and 'Faithful One.' Now 30 years later I'm still singing those songs and I'm so grateful to say after a few years hiatus I'm writing new songs again. In some ways, I'm a different person now. (Joyce affectionately calls me 'husband # 5' because of the various phases of life that we have passed through in our 35 years of marriage including raising our 6 precious children with the ongoing challenges and delights of supporting our 2 special needs sons who are now young adults.) Yet my heart is still the same. I want to sing emotionally honest songs that convey my love and lament to God, the joys and struggles of life, and to do so in a musical style that is mother tongue to me. I hope that this collection will bring back good memories and also communicate
something fresh. Philip Janz, my producer, and I have really enjoyed working on some renewed versions of several of my legacy songs. I also included a song recorded by the band I'm proud to be a part of; The SHIYR Poets. We have released 3 Volumes of new folk-rock settings of the Psalms. In the years where I lost my words and stopping writing original songs (2010 – 2015) the Poets were a lifeline to me. I came very close to including the Poet's new setting of Psalm 24 (Carry A Blessing) on this album because I love it so much, but in the end decided that I needed to keep this album focused on some of my legacy songs. I really do hope, if you haven't already done so, that you will take the time to listen to all the volumes in our 'Songs For The Journey' series. There really is nothing like singing the Psalms.
All songs are loaded and ready to use- just access your WorshipTeam.com system database.
The songs are full featured with complete lyrics, chord charts and full length audio. Check out these great new songs, hear them in the original key, or choose your own key and play it the way you like it.
blessings
Cody Gentes
p.s. if you have never tried out Worshipteam.com, try it FREE for one month by simply going here: http://www.worshipteam.com/try ! See you there.