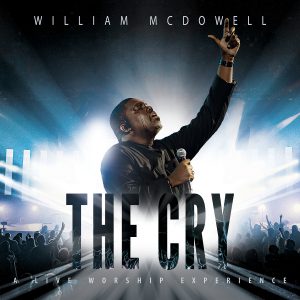 William McDowell has released "The Cry" through Integrity Music and all songs are now loaded into WorshipTeam.com "The Cry" is a live recording of some great new songs.
For 20 years, William McDowell has been writing songs crying out for God to bring revival. However, his latest release is not a collection of songs crying out for God to come; rather it's a collection of songs written as a response to a God who already has. Two decades ago, McDowell began praying for revival to break out in his community, and on May 2016, the presence of God entered his church of Deeper Fellowship in Orlando and has yet to leave.
"God literally walked into the room in our church in a tangible way, It changed everything about our posture, everything about the way we do life and everything about the culture of our church."
The church has recorded over 300 different healings and miracles to date. What's more… the revival doesn't seem to be slowing down. The Cry is a powerful collection that puts to melody what God has been doing in his church and with these people.
All songs are loaded and ready to use- just access your WorshipTeam.com system database.
The songs are full featured with complete lyrics, chord charts and full length audio. Check out these great new songs, hear them in the original key, or choose your own key and play it the way you like it.
blessings
Cody Gentes
p.s. if you have never tried out Worshipteam.com, try it FREE for one month by simply going here: http://www.worshipteam.com/try ! See you there.