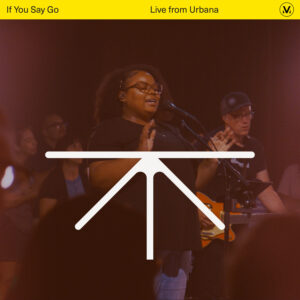 Vineyard Worship has released "If You Say Go (We Wait For You)" featuring Alexandria Faison, and the song is now loaded into WorshipTeam.com "If You Say Go (We Wait For You)" is a recording of a great new song.
"If You Say Go (We Wait For You)", the second single from the upcoming Vineyard Worship EP, Sing Together – Live from Urbana, is a statement of obedience and faith, and a corporate declaration of trust in the living God.
This brand-new recording of a Vineyard favorite features a fresh new bridge that focuses our attention on the Lord as we choose to follow Him.
We want to go where You're goin'
We want to do what You're doin'
We wait for You, we wait for You
We wait for You
Recorded live with the congregation at the Vineyard Church of Central Illinois in Urbana, "If You Say Go (We Wait For You)" features Vineyard worship leader, Alexandria Faison ("I Speak
Jesus", "Kyrie Eleison").
The song is loaded and ready to use- just access your WorshipTeam.com system database.
The song is full featured with complete lyrics, chord charts and full length audio. Check out this great new song, hear it in the original key, or choose your own key and play it the way you like it.
blessings
WorshipTeam Staff
p.s. if you have never tried out Worshipteam.com, try it FREE for one month by simply going here: http://www.worshipteam.com/try ! See you there.

Also if you want some awesome WT Merch find yours here! https://store.worshipteam.com/