ProPresenter Presentation Software is nicely done Mac display software for churches. ProPresenter users can access Worshipteam.com songs quickly and import them into their ProPresenter song library.
MAIN STEP 1: Export from WorshipTeam.com to a ProPresenter readable Song file format– Follow these simple steps to export your Worshipteam.com songs into ProPresenter readable song file formaat. Worshipteam.com supports this easily as follows:
Simply log into Worshipteam.com and go to view any set you wish to export (including all the songs in the set) to ProPresenter.
Select the "Export" icon from the icons at the top of the set.
A dialog will appear for exporting. Select the "ProPresenter" radio option
Click "Export" button.
Worshipteam.com will generate a file of your set that is in a compatible import file for ProPresenter. Save that file where you can find it from ProPresenter.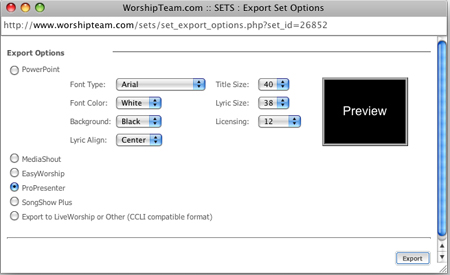 MAIN STEP 2: Import the Song files into ProPresenter –
Open ProPresenter.
Select the menu option from "File > Import > Import Presentation" (as below)

Select the name of the song file that you exported from WorshipTeam.com in the above section. Click "Choose".

On the Import Behavior dialog, select "Import into Library Only" (once in the library, you can reuse these songs in any presentation you later develop).
Choose "Paragraph Break" as the delimiter.
When you are ready, click "Continue".

The songs will be quickly imported and placed in the ProPresenter song library.
You will now find your songs in your ProPresenter song library!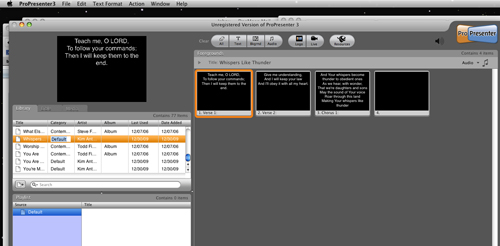 ---
Enjoy the power of Worshipteam.com songs in your ProPresenter display presentations.
Blessings!
Kim Gentes
WorshipTeam.com