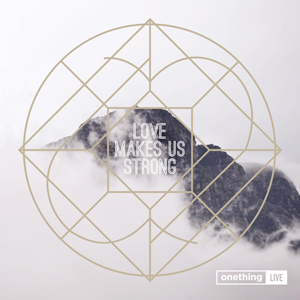 Onething has released "Love Makes Us Strong" through Forerunner Music and all songs are now loaded into WorshipTeam.com "Love Makes Us Strong" is a live recording of some great new songs.
Forerunner Music, the official record label of the International House of Prayer of Kansas City (IHOPKC), releases its much anticipated music offering, Onething Live: Love Makes Us Strong, April 15 through digital and physical retail outlets everywhere with New Day Distribution. Recorded live at IHOPKC's annual Onething young adult conference last December (Dec. 28 – 31) and marking the eighth live Onething album to date, Love Makes Us Strong is an authentic worship collection of some of the most powerful and memorable songs from the event led by members of the IHOPKC worship team.
Drawing more than 15,000 church leaders and young people from congregations all across the world each year with as many as an additional 500,000 participants via live broadcasts, the 14th year-end premier event united fiery worshipers for a time of prayer, teaching and revival as IHOPKC hosted its annual Onething conference at the Kansas City Convention Center in Kansas City, MO. Capturing the energetic atmosphere and vibrant worship from the 2015 conference, Love Makes Us Strong encourages listeners to encounter Jesus in a tangible way and to passionately live out the message of Christ in their own lives.
"Onething brings together thousands of worshipers–who have set their hearts to live with true abandonment and devotion to Jesus," says Forerunner Music President Nick Syrett. "Our heart is to encourage and strengthen these believers as they experience the transforming power of Jesus together and to equip a generation for revival. We hope that Love Makes Us Strong will serve as a strong reminder to listeners that they, too, can encounter Jesus in their everyday lives and go forth to do His works and change the world, until His fame fills the earth."
Highlights from the 13-track album centered around the unifying theme of 'Love Makes Us Strong' include new songs from established Forerunner Music artists Misty Edwards, Laura Hackett Park, Jonas Park, Jon Thurlow, Jaye Thomas and more. The album also features songs from four International House of Prayer worship leaders appearing on a Onething album for the first time: Brenton Dowdy, Lauren Holmes, Christina Reynolds and Chris Tofilon.
Sharing a spirit of unity in reverence to God, newcomer Brenton Dowdy sings of 'one Kingdom' and 'one throne' with his offering of "Enthroned On Our Praises," while Laura Hackett Park takes the lead on the cover of the Chris Tomlin song "Even So Come." Hackett Park further invites listeners to experience the love of Christ that "makes us strong" and to share it with one another with the spontaneous title track that declares with its resounding chorus: We are the church / We are the bride / Love makes us strong / To Lay down our lives. All songs are loaded and ready to use- just access your WorshipTeam.com system database.
The songs are full featured with complete lyrics, chord charts and full length audio. Check out these great new songs, hear them in the original key, or choose your own key and play it the way you like it.
blessings
Cody Gentes
p.s. if you have never tried out Worshipteam.com, try it FREE for one month by simply going here: http://www.worshipteam.com/try ! See you there.