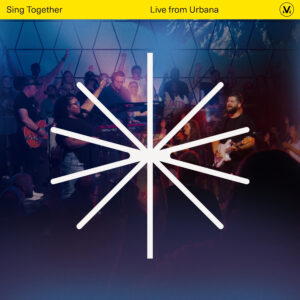 Vineyard Worship has released "Sing Together (Live from Urbana)" and the songs are now loaded into WorshipTeam.com "Sing Together (Live from Urbana)" is a recording of some great new songs.
Vineyard Worship has been known for its profound modern worship music for decades, both within the Church and the wider culture. Songs like "Breathe," "Holy and Anointed One," and "One Thing Remains" are heard every week in churches around the world. Their latest release, Sing Together – Live from Urbana, is a celebration of congregational favorites that have been reimagined and refreshed for the next generation.
Kyle Howard, known for his work on "Sons & Daughters" and "Breathe In, Sing Out," and Alexandria Faison, who has contributed to several Vineyard Worship and Vineyard Soul records, lead this release with a passionate heart's cry that captures the spirit of a young generation.
From the fast-rising congregational declaration "I Speak Jesus" to the simplicity of classics like "Dwell" and "You Are Worthy of My Praise," Sing Together – Live from Urbana offers something for new and legacy listeners alike, inspiring them to praise.
The songs are full featured with complete lyrics, chord charts and full length audio. Check out these great new songs, hear them in the original key, or choose your own key and play them the way you like it.
Blessings
WorshipTeam Staff
p.s. if you have never tried out Worshipteam.com, try it FREE for one month by simply going here: http://www.worshipteam.com/try ! See you there.
Also if you want some awesome WT merch find yours here! https://store.worshipteam.com/