MediaShout Presentation Software is the premier display software for churches, available in more congregations than any other presentation software. Mediashout users can access Worshipteam.com songs in two different ways.
OPTION 1 is available to Mediashout users from version 2.5 to present. Use that method if you have anything other than Version 4 of Mediashout, or if you don't want to import your Worshipteam.com sets directly with Mediashouts song library.
OPTION 2 is available only for Mediashout 4 users. You can directly access your Worshipteam.com sets and import the songs without ever leaving Mediashout. This requires one of your Mediashout computers to have direct access to the internet, so that Mediashout can synch with your WorshipTeam.com account and access your songs instantly for use in your Mediashout presentations.
Each of the above options are explained below, depending what your situation is.
---
OPTION 1: Export from WorshipTeam.com to the Mediashout Song file format– the grand-poobah of presentation software, Mediashout has the most developed feature set and powerful display options of all the software. They have also created two seamless methods of getting song content into their presentation database and scripts. The first method is to import their custom song file format. Worshipteam.com supports this easily as follows:
Simply log into Worshipteam.com and go to view any set you wish to export (including all the songs in the set) to Mediashout.
Select the "Export" icon from the icons at the top of the set.
A dialog will appear for exporting. Select the "Mediashout" radio option, and click "Export" button.
Worshipteam.com will generate a file of your set that is in a compatible import file for Mediashout. Save that file where you can find it from Mediashout.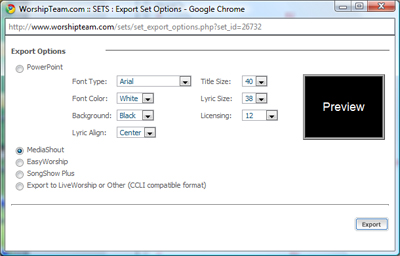 Import the Mediashout Song file format to Mediashout-
Open Mediashout.
Select "Song Library>Import Songs>From Files"
Choose the "Song deck text file" source file type. Click Next.
On the Import Songs dialog, select the folder icon and browse to your text file you just downloaded from worshipteam.com (above). Select the file and click Open. Back on the Import Songs dialog, click Next.
Now the songs are ready to be imported. Choose either "Import All Songs" of "Skip Duplicates". You can also choose to group the songs according to your preferences.
When you are ready, click "Import".
Once you being importing, the file will be processed into a results screen. Review the results and click "Close".
You will now find your songs in your Mediashout song library!
---
OPTION 2: Mediashout Online Set Import– Mediashout and Worshipteam.com engineers worked together to provide a direct online song import function that requires no saving of files, just selecting the set you developed in Worshipteam.com and importing it to your Mediashout database. This features is completely embedded in Mediashout 4 and beyond (Mediashout 3.5+ and earlier should use the song file import method described above). Below are the details on using Worshipteam.com sets inside of Mediashout as of Mediashout version 4. Please check with your Mediashout documentation for more details on this great, time saving feature.
Before adding songs from WorshipTeam.com, you must have it enabled and configured in the song settings. Do this once, and you don't have to do it again. Here is how to configure Mediashout for your Worshipteam.com account: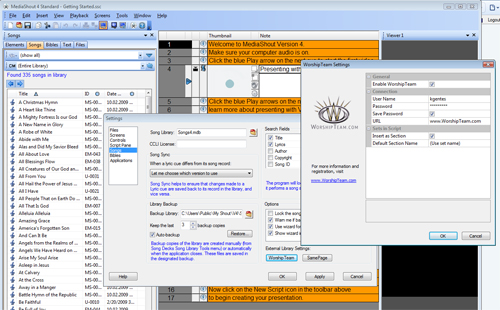 Select "Tools>Settings…" and you will have the Settings dialog appear.
Select the "Songs" option the left and the screen will change to adjust your songs settings.
Select the button called "WorshipTeam" under "External Library Settings". This will bring up the Worshipteam.com Settings dialog.
Select the "Enable WorshipTeam" checkbox. Fill our the user name/password information.
Once you have configured the options as you like them, select OK. You now are ready to use Worshipteam.com in Mediashout.
To retrieve a WorshipTeam song set, follow these steps: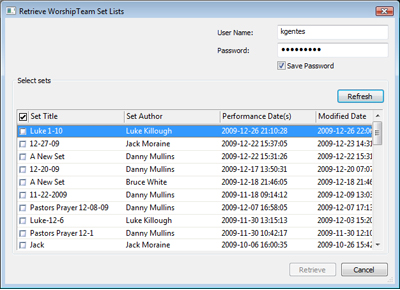 Open MediaShout, and then click the Songs tab to open a song deck.
Click the CM button, and then click WorshipTeam.
Click the WT button, and then click Retrieve Sets.
Select the set to import.
Once the set list is retrieved, link each song to a song in the library, or if the song is not already in the library, create a new song.
---
Take a look at which option works best for you and your church and enjoy the power of Worshipteam.com songs in your Mediashout display presentations.
Blessings!
Kim Gentes
WorshipTeam.com