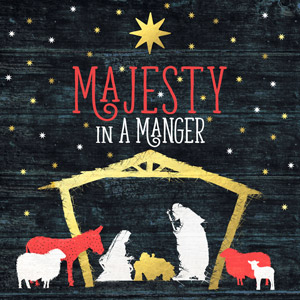 Various Artists has released "Majesty In Manger" through Integrity Music and all songs are now loaded into WorshipTeam.com "Majesty In Manger" is a recording of some great new songs.
Committed to resourcing churches with songs of substance for every service need, Integrity Music announces the global release of Majesty In A Manger, a new worship album for the Christmas season. Produced by Dove Award winner Michael Farren (AllAboutWorship) and Daniel Kinner (Mandisa/Royal Tailor), the album features 11 tracks including new songs and an instrumental.
"The Advent season brings some challenges to most worship leaders," explains Adrian Thompson, Integrity's Vice President of Song & Artist Development. "Suddenly their normal list of songs for Sunday is thrown into disarray as the focus is on the Savior's birth while at the same time, many of the familiar Christmas songs aren't vertical in nature and the lyrics simply don't lead us into worship."
"The songs for Majesty In A Manger were written by worship leaders and pastors for other churches," he adds. "Our prayer is that the songs will give voice to congregations throughout the Advent season while opening hearts to worship the King."
Integrity songwriter and recording artist Travis Ryan, who is also the worship pastor for LifePoint Church in Smyrna, Tennessee, adds: "When I was asked to participate in writing and singing on Majesty In A Manger, I was thrilled because I know how hard it is to find the right, theologically strong songs for the season… Christmas is a time when you are not only serving your regular congregation, but you are also interacting with and leading guests who may not attend church regularly, guests who may be gleaning the Gospel for the first time through the songs you are leading." All songs are loaded and ready to use- just access your WorshipTeam.com system database.
The songs are full featured with complete lyrics, chord charts and full length audio. Check out these great new songs, hear them in the original key, or choose your own key and play it the way you like it.
blessings
Cody Gentes
p.s. if you have never tried out Worshipteam.com, try it FREE for one month by simply going here: http://www.worshipteam.com/try ! See you there.